How to Choose the Right Furniture for the Room
Changing the look of a room, or moving into a new home and furnishing it from the ground up can be both daunting and exhilarating. How do you choose the best furniture for your home?  We've got 4 tips to help you find the furniture you want!
Consider the room. Measure and calculate the dimensions of your living room so that as you shop around for the best furniture, you'll know the size of the area you're looking to furnish. While you're at it, don't forget to measure the doorways too so that you can be sure your new furniture will fit when it gets delivered.  Think about how you'll use the room.  Will it be a seldom-used guest room?  Or will it be the place the family gathers at the end of every day?
Start with the "basics" and then add things in. Be sure that, at a minimum, you include the basics for the room.  For a guestroom, this means you'll need at least a bed, dresser, end table, and mirror. For a living room, you'll need a sofa (or loveseat if your home is small), an armchair or two, a coffee table, and an end table.  Once you locate and decide on the right items from that list, go on to include other pieces.
Surround yourself with things you love. Your home is your refuge, so make it look like what you and your family want to come home to!  Paint the walls your favorite colors, pick fabrics that reflect your taste, and hang art on the walls that you love to look at.  Just as importantly, you should find the furniture that you love and which suits your needs.  Don't settle for a chair that doesn't feel comfortable to sit in, or for a dining room table that is too small to accommodate the guests you'd like to invite to gatherings.
Invest in high quality furniture. Buy solid, sturdy pieces that will stand up to the test of time.  With pieces like this, you'll be able to use them for years or decades, and you'll be able to refinish and reupholster the furniture at a high-quality furniture refinishing shop whenever needed.  When selecting upholstered furniture, find fabrics that are stain resistant, as well as high quality.  You'll be glad you did, particularly if you have children or pets in the home.  Avoid furniture made of particle board, MDF, and flimsy materials.  These pieces will not hold up, nor will they be able to be restored or refinished if they sustain damage.
It's important to have a great furniture refinishing shop in mind for any repairs that need to be made as well as when the time comes to refinish or reupholster your favorite furniture.  Jax Furniture Refinishing & Upholstering is the best furniture refinisher Jacksonville FL homeowners need for their antiques and other favorite furniture. We're the trusted furniture reupholstery shop for clients in Atlantic Beach, Ponte Vedra Beach, San Marco, Nocatee, and all over downtown Jacksonville.  We specialize in furniture restoration and we'd love to take care of your furniture for you!
5 Signs that Your Wood Furniture Needs to Be Refinished
Your dresser, end tables, side table, dining room furniture, and other wood furniture receives daily use, and it will inevitably start to show evidence of wear and tear.  Here are five signs that it's time to either plan your DIY wood refinishing project or find a great furniture refinishing shop in your area:
The surface of the wood feels sticky even after it's been dusted. Wood furniture does not require solvents and cleaning solutions to make it clean.  In fact, you should ONLY dust your wood furniture with a clean, dry, microfiber cloth or other such cloth.  However, if even after you've dusted your furniture it feels sticky or tacky, it's time for the furniture to be refinished.
The existing finish has cracked, and the wood underneath is exposed.If the wood is exposed, that means the finish can no longer do its job to protect that wood, and it's time to call on a highly rated wood refinishing shop to give it a fresh coating.
The finish is flaking or chipping off. When the finish flakes, chips, or peels, that means it's failing and needs to be removed with a fresh finish coat applied.
Watermarks, dents, dings, scratches, and blemishes are present.Sometimes even if the finish is intact, the furniture has gotten enough use to merit restoration.  Scratches, dents, and other such blemishes just indicate the furniture receives a lot of use, so why not treat it to a custom restoration or refinishing job so that you can get it back in shape and continue using it?
You're considering discarding it. If you find yourself wanting to donate or throw away your wood furniture, stop and think about this.  Could you fall in love with it again if it had a fresh coat of varnish?  Or if it was restored in a different finish?
Your wood furniture is valuable, whether it represents an investment you made, or it's an antique you inherited, or it's just something you acquired and came to love.  Even well-built furniture requires maintenance and care!  A highly rated furniture refinishing shop in your area can restore your wood armoire, chest, or headboard to its original splendor.
Homeowners throughout Jacksonville FL and the surrounding area call on Jax Furniture Refinishing & Upholstering when their antique furniture, wood furniture, and upholstered furniture needs repair or restoration.  We're the best furniture refinishing service in Northeast Florida, including Riverside Avondale, San Marco, and all along the Beaches, and we'd love to take care of your wood refinishing project for you!
4 Tips for Selecting the Best Furniture Upholstery
When deciding on the perfect fabric for your custom upholstery project, it's easy to get overwhelmed by the seemingly endless array of choices!
Here are tips for choosing a great fabric for your upholstery project:
Be sure to choose an upholstery-weight fabric. Upholstered furniture receives heavy use, some pieces more than others, and you want to be sure you've found a fabric that can withstand the stress of everyday life.
Choose a fabric for your lifestyle. If you have kids and pets, you'll need something far more durable than you would otherwise.  If you have a busy household, steer clear of delicate or textured options like silk, which can easily snag and are easily stained.
Consider the shape and size of the furniture. If the furniture you're reupholstering has a lot of curves to it, try to stay with solid color fabric and avoid stripes and patterns. Consider the size of the furniture too. For small pieces, for example, you might feel more apt to choose a bold, trendy "statement" fabric, whereas for a large sectional sofa, you might choose a solid color in a more neutral tone.
Consider the other elements in the room. If you have a favorite work of art hanging in the same room as the furniture you're reupholstering, you'll want to be sure the fabric you select goes well with and enhances the item.  Or if you know you love the wall color, or the particular Oriental rug you have in that room, make sure to examine your fabric options next to these things to be sure they'll look great together when you get the furniture back from the custom upholstery shop.
Still feeling overwhelmed at the prospect of determining which fabric is best for your chaise, chair, or sectional sofa? The good news is that a great upholstery shop or refinishing shop will be staffed with experts to help you with the decision!  The best furniture upholstery services stock innumerable fabric swatch books for you to pour over, and encourage their craftsmen to meet with you to discuss the fabric – and other parts of the reupholstery process – so that you're thrilled with the results.
Jax Furniture Refinishing & Upholstering is the best furniture restoration service Jacksonville FL residents rely on for high quality refinishing and upholstering every time.  Our Southside shop is a hub of furniture restoration and renewal, and our clients throughout Atlantic Beach, Ponte Vedra Beach, Deerwood, San Marco, and Riverside know they can rely on our craftsmanship and decades of experience.  Call on us to make your upholstery project exceed your expectations!
The Importance of Using a Highly Rated Furniture Refinishing Shop
Torn fabric, flat cushions, faded upholstery, water rings, broken chair legs, scratched surfaces… at some point, every one of us needs to have fine furniture repaired, refinished, reupholstered, or otherwise "fixed."  You can look for tips online and attempt the job yourself, or you can take your beautiful furniture to a chop shop and hope it turns out alright, or you can find a highly rated and trustworthy furniture restoration service and rely on the expertise of the craftsmen there.
Fine furniture requires fine craftsmanship.  Here are 3 requirements of fine furniture that make it important to seek a great furniture refinishing shop when work needs to be done:
Time– Any refinishing or upholstering job takes time, and many jobs take a lot of time. For a high-quality custom job, specialized supplies often need to be ordered. There is almost always a great deal of prep work required of a furniture reupholstery or refinishing job.  If you're refinishing wood, you'll often need to wait for a coating of varnish or lacquer to cure, or for glue to set, which can take hours or even days to occur.  In upholstery work, you need to take the time to measure the fabric carefully, cut with precision, and take handle the fabric carefully.
Labor Intensive– The detailed work required of repairing and restoring fine furniture can be extensive.Prep work can include stripping and sanding a piece to the frame.  Then, reinforcing a frame or joints, replacing coil springs and zigzag springs, replacing padding, applying stain, chair caning, fitting and sewing fabric to the specific specs needed, and perfecting detail work by hand all require focused, skilled work.
Special Skills– A high quality furniture restoration shop employs true craftsmen who have honed their skills for years, received specialized training, and generally become experts in numerous aspects of antique restoration, upholstering, and wood refinishing.
High quality furniture restoration and reupholstery is a time- and labor-intensive process that involves specialized skills. Your heirloom dresser and armoire, antique chair, and favorite hutch need to be trusted to the care of an award-winning, trusted furniture restoration company.  Jax Furniture Refinishing & Upholstering is the best First Coast furniture repair shop that customers in Riverside, Mandarin, Ortega, and Jacksonville call on for their furniture needs.  Call today to set up your appointment!
3 Important Things You Need for Your Furniture Refinishing Project
Wood furniture sustains a lot of damage simply through everyday use.  Fortunately, a lot of this damage can be mitigated through sanding, scraping, and staining, which is why so many homeowners set off on DIY wood refinishing projects.  So what do you need to embark on your own furniture restoration project?
Time– Any woodworking, wood refinishing, or restoration project requires time. Unless you're a seasoned furniture restorer, you'll need time to research the project, gather your materials, decide on the perfect stain or lacquer, etc.  Then, you'll need time to execute the project. Often, furniture repair and restoration requires multiple coatings, or involves a glue that needs to cure.  High quality furniture restoration and refinishing takes time.  If you're short on time yourself, it's best to call on a great furniture restoration shop to do the work.
Protection– Make sure you have all the necessary protective equipment to perform the work safely. Many restoration projects require strippers and solvents, and for the sake of your hands, invest in good quality gloves that are appropriate for the task you will be doing and the materials you will be handling.  If you'll be applying lacquers, shellacs, or varnishes, we recommend using the appropriate respirator while working.  Liquid varnishes can spatter, and fumes can irritate your eyes, so protect yourself with the right glasses or goggles.
Space– Unless you're restoring dollhouse furniture, you'll need a large work area for your furniture repair project. You need adequate space to spread out a tarp or dropcloth and to hold numerous tools, gallons of varnish or stain, and other project materials.  Your project will be messy, so you'll need to find the right space where sanding dust, fumes, spatter, and cords won't be a bother to others in your house.  Since wood refinishing projects can span multiple days or weeks, you'll want your space to be out of the way of everyday foot traffic too.
It's a great feeling when your project is complete… The final coat of varnish has dried, and your antique chair, end table, or headboard can be reincorporated into your home.  If you have doubts about completing the project yourself, find the best local furniture refinishing service and trust the job to them. It's possible that the task may become overly taxing, too expensive, or downright dangerous, and in such cases, it's best to take the piece to a professional restoration shop.
Jax Furniture Refinishing and Upholstering is the best Jacksonville FL furniture refinishing company and we're the ones to trust with your project!  Our customers in historic Riverside Avondale, San Marco, St. Augustine, and throughout Jacksonville agree that the quality of our work is unmatched.  We'd love to take care of your project for you!
4 Things that Keep Your Dining Room Furniture in Great Shape
Whether your dining room is used daily or only on holidays, you want to keep the furniture in good shape.  Here are 4 tips for keeping your dining room furniture looking great:
Dust Often– Dust is naturally abrasive and leaves microscopic scratches all over a wooden surface, causing it to appear dingy.  The best way to avoid this is to dust often, even when you don't think you need to.  Dust at least weekly in order to prevent the buildup of dust. Use a dusting cloth or cloth mitt, and do not use a feather duster, as these can scratch the wood.  Avoid any type of cleaning pad or wipe that will leave behind a residue.  Residue will attract even more dust.
Deal with Issues as They Occur– While tidying up after dinner, look for nicks and scratches that may have recently appeared on the chair legs, water rings and cracks in the finish of the table's surface, tears in the fabric padding, etc. Deal with these issues as they happen so that they do not worsen.
Protect Furniture Properly– Scratches are inevitable on all wood surfaces, but with the right precautions, your wood dining room set will stay in good shape.  Use linen or cotton tablecloths and placemats rather than other courser woven ones that can potentially scratch the surface, or plastic or other synthetic fibers that could leave behind a residue.  Buy or make cork or felt pads to keep underneath heavy candlesticks, flower arrangements, or other centerpieces.  Replace the cork or felt several times per year to ensure they are still effective.  When the table is not in use, cover it with the leaf or soft tablecloth.  When a spill occurs, wipe it up immediately.  Use hot pads under any hot plates to prevent heat damage.
Call the pros when needed!Even when you take every possible precaution, your dining room furniture will likely still need the attention of a good professional refinishing service in order to keep it looking its very best.  The best wood refinishers will make your dining room tabletop and chairs smooth and beautiful once again.  Over time, fabric will fade and become worn, and cushions will lose their padding.  A good upholsterer can recover them to be soft, functional, and beautiful again.
Jax Furniture Refinishing & Upholstering is the best wood refinishing shop Jacksonville FL homeowners rely on for their dining room furniture, favorite armchairs, and heirloom antiques alike.  We are the trusted name in antique restoration, wood refinishing, custom upholstering and the first choice among homeowners throughout Ortega, Ponte Vedra, Sawgrass, San Marco, and Riverside Avondale.  When your fine furniture needs attention and care, call on us!
3 Outdoor Furniture Features that Never Go Out of Style
Summer is just around the corner and it's time to plan how to best enjoy your outdoor space.  Fabrics and colors come in and out of style, but here are the 3 features of outdoor furniture that are always in style and looking good:
Quality– Good quality is always in style. Your patio furniture should be high quality to help it sustain the frequent rain and the strong, direct sunlight that comes with living in Northeast Florida.  High quality furniture is also generally more comfortable, more usable, and stands up better to wear.  With some care and routine cleaning, high quality furniture will be enjoyed for many summers to come!
Comfort– Your outdoor furniture needs to be comfortable… it's that simple! The deck and porch are there for you to relax on, so make sure your cushions are properly padded, repair broken areas, and be sure there are no holes or tears in upholstery.  A great furniture refinishing shop can replace padding, make repairs, and reupholster any outdoor fabrics so that your furniture is ready for use!
Color– Outdoor spaces are great for expressing color. Some homeowners choose to let the colors in the home's interior spill out onto the deck or patio.  Other homeowners, on the other hand, select brighter colors, funky pairings, or bolder patterns for outdoor furniture.  A good furniture upholstery service can reupholster your favorite outdoor furniture so that it's ready for a new season.  Have some fun this summer and give your timeless patio furniture a "facelift" in a brand-new color or pattern!
Jacksonville Beach, Atlantic Beach, Ponte Vedra, Mandarin, and Riverside homeowners call on the best Jacksonville FL furniture refinishing company – Jax Furniture Refinishing & Upholstering – to be sure their patio furniture is ready for summer. We specialize in refinishing fine wood furniture, reupholstering and repairing damaged or faded furniture, and restoring antique furniture to be enjoyed for years to come.  Let us help get your outdoor space ready for you to enjoy!
Should I Reupholster My Old Sofa?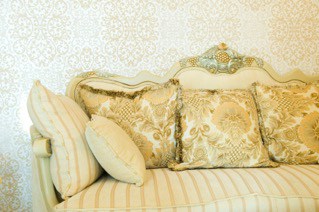 Many homeowners struggle with the question of whether or not to reupholster an old and worn sofa. The answer depends in part on the following questions and ultimately comes down to a personal decision.
Is the sofa structurally sound? Another way of asking this is whether the sofa has "good bones." If the frame is sturdy and in good shape, a great furniture upholsterer can cover it in a brand-new fabric of your choice, and can add padding or foam, if needed. This can often be done for less cost than purchasing a new sofa.
Is the sofa a family heirloom? If the sofa has been important to your family, or if it's been in the family for several generations, you might hope to keep it in the family even longer. A fresh, new fabric and some new padding or springs can give the old family sofa a new chapter! A highly rated furniture refinisher can give an old sofa, armchair, or ottoman a facelift and a new life.
Is the sofa valuable? If the sofa is a valuable antique, very high quality, or if you've already invested good money in it, it's generally a wise decision to reupholster it when it shows wear and tear. If the sofa is an antique, a good upholstery shop will even be able to advise you on fabric choices that can reflect the era.
Is repurposing and reusing important to you? If you're "green," you're passionate about reusing, repurposing, recycling, and reducing waste, and you'll likely opt to reupholster your couch and continue using it rather than see it dumped into a landfill.
What are the costs? If you don't have a personal stake in the decision, you can simply find out which is the better value – buying a new sofa or reupholstering the old, worn one you have. If you have a high-quality sofa that's in pretty good shape but just needs new fabric, it's almost always less costly to reupholster.
Jax Furniture Refinishing & Upholstering is the best Jacksonville FL furniture restoration shop and the company to trust with your sofa and other favorite furniture. Our customers in Ponte Vedra Beach, Ortega, Mandarin, Riverside, and the beaches call on us to keep their furniture in great shape now and for generations to come. Call on us and let's get started on that furniture reupholstery project you've been daydreaming about!
5 Tips for Preserving Furniture in Storage
Furniture that is not stored correctly can become damaged while in storage.  Before moving your fine furniture to a basement, garage, or offsite storage unit, check out our tips to help ensure your dining room table and chairs, chest, dresser, antique chair, and other furniture stays in great shape.
Determine the best place for storage.  Be sure first and foremost that the storage unit is climate controlled.  Here in humid, warm northeast Florida, it is especially important that your furniture is not stored in rooms or areas that are damp and hot, or where the temperature can fluctuate greatly.  The area you decided on for storing your favorite furniture should be monitored for moisture, protected against flooding, and should have safety measures in place to prevent break-ins.
Clean the furniture.  Wipe away all dust and cobwebs, and be sure to clean away excess body oil from areas such as the arm rests of chairs.  Make each item as clean as possible, otherwise the dust, oils, and debri can settle into the fibers of the material and degrade or damage it over time.  You might also choose to treat certain materials.  For example, depending on the type of wood used in your antique wood furniture, as well as its condition, you might choose to apply a high quality oil, or ideally, to have a good professional wood refinishing service clean and repair the furniture before it is placed in storage.
Disassemble furniture.  It's often recommended that you take apart furniture items, when possible, at least partially.  For example, unscrew the legs from dining room tables and chairs, and detach the mirror from on top of the dresser, etc.  This will allow you to wrap individual pieces, if necessary, and configure all items in storage in the best possible way. Put screws, bolts, locks and keys in a small plastic bag and keep it near the furniture in order to make the furniture easier to reassemble when the time comes.
Wrap or protect furniture.  Smaller glass items or mirrors should be wrapped in packing paper and then in bubble wrap or put into a box.  Sharp edges of furniture can scratch other items or get broken off in transit or storage, and therefore should be wrapped in moving quilts or packing paper.  You can even choose to loosely drape a covering over furniture to simply protect it from sunlight or dust.  However, be sure you do not use plastic wrap when covering furniture even loosely, as this can create condensation, mildew, and a host of other conditions that can cause great damage to your furniture.
Raise your furniture off of the floor.  It's also highly recommended that you raise your furniture off of the floor using cinder blocks, planks, or palettes so that your items are protected should the area flood unexpectedly.  You might choose to line the floor of the storage area with plastic.  This can seal moisture away from your furniture.
Jax Furniture Refinishing & Upholstering is the best furniture refinishing service to trust with your treasured pieces.  We specialize in restoring furniture to its original splendor, whether it is an antique dining room set you recently got out of storage, a contemporary coffee table that was damaged, or your family's favorite sofa that is in need of a facelift. We serve clients throughout the First Coast in downtown Jacksonville, Mandarin, Southside, Ponte Vedra Beach, Atlantic Beach, and more.  Call on us for your refinishing, restoration, or reupholstery project, and you'll love the results!
What Makes a Good Upholsterer?
It's easy to locate a good, local furniture upholsterer, but how do you know when you've found a high-quality upholstery shop that you can truly trust with your favorite furniture?
Dedication to Customer Service

– A great upholsterer works with the customer to ensure the upholstery or refinishing project goes smoothly and exceeds the customer's expectations.  Some customers may not know which type of fabric to select, or may not even know how to get started on a professional upholstery project. Good upholstery shops offer the customer service and communication that the customer needs to feel welcome, have all questions answered, and plan the reupholstery project of his or her dreams.

Skilled Technicians

– Great upholstery shops need skilled and experienced technicians.  It's that simple! Find a trustworthy upholstery shop with craftsmen who have honed their skills through many years of furniture restoration and have received training and experience in fine furniture upholstering.

Bonded & Insured

– It's imperative that the upholstery or refinishing shop that you trust with your furniture is bonded and insured so that your investment is protected.  

Passion for the Craft

– Furniture restoration and upholstering is an art, and the technicians and craftsmen who perform the work should be passionate about what they do.
Jax Furniture Refinishing & Upholstering is the highly rated furniture refinishing company Jacksonville FL homeowners trust with their fine furniture.  We are passionate about furniture and love to provide outstanding craftsmanship and service to our customers with every job. We specialize in restoring fine antique furniture, providing repairs, and reupholstering and refinishing nearly any type of fine furniture.  We're the trusted custom upholstery service for customers in downtown Jacksonville, Ortega, Nocatee, Mandarin, and throughout the region and would love to get started on your furniture restoration or upholstering project!