Our Blog
Don't Let A Refinishing Company Dip Strip Your Furniture
May 11, 2015 05:40:52pm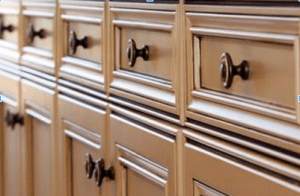 Refinishing your family's antique table and chairs, your heirloom chest or dresser, or another furniture piece is a great way to continue enjoying it for many years. A professional refinishing job can make your favorite antique look nearly new again, while still maintaining its authenticity and the qualities you initially loved about it. To most antique owners, the toughest part of a furniture refinishing project is finding the best furniture shop for the job. Here's a tip: a primary factor that distinguishes a high quality professional refinishing shop from a subpar shop is its method of stripping the original finish. Find the furniture refinishing shop that hand strips its furniture, and trust your fine furniture to its professionals.
Dip Strip Method Vs. Hand Strip Method
Stripping antique wood furniture of its old or original finish is the first and vitally important step in the refinishing process. The original varnish, paint, or other coating must be removed, with no residue left, in order for the new finish to be properly applied. This important step is also very messy and time-consuming, so it's tempting to look for shortcuts. This is precisely how the "dip stripping" was developed.
The process of dip stripping is very hard on furniture. Your fine wooden antique is first dunked (dipped) into a large vat of solvents. A couple minutes later, when the chemical solvents have had a chance to react to the existing finish, the furniture is removed from the tank. It is vigorously scrubbed, then rinsed, and set out to dry. A dip into the chemical bath does indeed remove the finish and residue from your furniture, but it also often causes joints to come unglued, veneer to become loosened, and a bevy of other potential hazards to occur.
The alternative is to have your furniture's finish stripped by hand. In this process, the same chemical solvents are used to effectively remove old finish and residue, but the solvents are applied very gently and in a smaller, safer dose. Your furniture is placed in a large, shallow tray. The solvent is then dispersed through a tube and gently wiped or brushed across the furniture by hand with a rag or brush. Once the piece is completely hand stripped, it is set out to dry for 24-48 hours and is ready to refinish!
The best professional furniture refinishing companies know the importance of hand stripping antique furniture. As in all crafts, handmade details and tasks performed by hand indicate high quality, and in woodworking, this is especially true. Your furniture deserves the best treatment, so only trust it to the best antique refinishing service you can find.
The Best Furniture Refinisher In Jacksonville FL
There are many good furniture refinishing companies in Jacksonville, Florida, but Jax Furniture Refinishing & Upholstering is the best company to trust when it comes to refinishing your fine antique. Our master woodworker completes each project with the eye of an artist and the hand of a skilled craftsman. Other refinishing services rely on the potentially harmful process of dip stripping, but we proudly hand strip and refinish each piece using the handheld tools of the trade that have been used for decades. We are the trusted furniture refinishing service for customers throughout Northeast Florida, including downtown Jacksonville, Fernandina Beach, Ponte Vedra Beach, and more. Call today and let us begin working on your own beautiful antique.