Our Blog
Should I Reupholster My Old Sofa?
March 20, 2019 06:43:34pm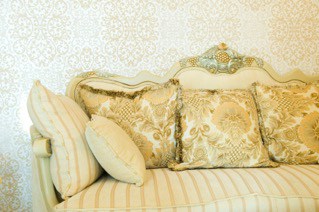 Many homeowners struggle with the question of whether or not to reupholster an old and worn sofa. The answer depends in part on the following questions and ultimately comes down to a personal decision.
Is the sofa structurally sound? Another way of asking this is whether the sofa has "good bones." If the frame is sturdy and in good shape, a great furniture upholsterer can cover it in a brand-new fabric of your choice, and can add padding or foam, if needed. This can often be done for less cost than purchasing a new sofa.
Is the sofa a family heirloom? If the sofa has been important to your family, or if it's been in the family for several generations, you might hope to keep it in the family even longer. A fresh, new fabric and some new padding or springs can give the old family sofa a new chapter! A highly rated furniture refinisher can give an old sofa, armchair, or ottoman a facelift and a new life.
Is the sofa valuable? If the sofa is a valuable antique, very high quality, or if you've already invested good money in it, it's generally a wise decision to reupholster it when it shows wear and tear. If the sofa is an antique, a good upholstery shop will even be able to advise you on fabric choices that can reflect the era.
Is repurposing and reusing important to you? If you're "green," you're passionate about reusing, repurposing, recycling, and reducing waste, and you'll likely opt to reupholster your couch and continue using it rather than see it dumped into a landfill.
What are the costs? If you don't have a personal stake in the decision, you can simply find out which is the better value – buying a new sofa or reupholstering the old, worn one you have. If you have a high-quality sofa that's in pretty good shape but just needs new fabric, it's almost always less costly to reupholster.
Jax Furniture Refinishing & Upholstering is the best Jacksonville FL furniture restoration shop and the company to trust with your sofa and other favorite furniture. Our customers in Ponte Vedra Beach, Ortega, Mandarin, Riverside, and the beaches call on us to keep their furniture in great shape now and for generations to come. Call on us and let's get started on that furniture reupholstery project you've been daydreaming about!